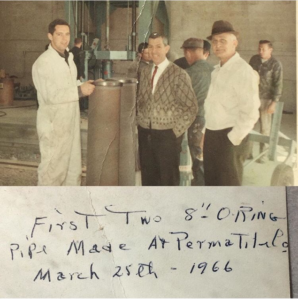 Permatile Concrete Products Co. was founded in 1964 by the Rainero family. The plant was built and the first concrete product was manufactured on March 25, 1966. The company began servicing State and County highway agencies and the sanitary sewer market with concrete pipe. Next came the demand for manholes. In 1971 we landed our first big project of eleven miles of sanitary sewer pipe, with five miles of O-Ring reinforced concrete pipe ranging from 54" diameter down to 15". Since then we have manufactured various diameters of perforated tunnel drain, lined pipe for a nitric acid line in a munitions plant, lined sanitary sewer trunk lines, pipe with energy dissipator rings, security grilles, box culverts, bridges, retaining walls, median barrier, reclaim tunnels, bridge deck slabs, fish ladders, building panels, bio-retention boxes, exposed aggregate and simulated brick and rock finishes – you name it!
We have had the opportunity to provide standard or specialized products for:
Bristol Motor Speedway
Anheuser Busch
The National Civil War Museum
Radford Army Ammunitions Plant
Holston Army Ammunitions Plant
The Cumberland Gap Parkway
US Army Corps of Engineers
Norfolk Southern Railroad
Kluge/Trump Vineyards
US Fish and Wildlife
US Forestry Service
Virginian Golf Course
Tennessee Eastman
General Shale
Virginia Tech
Primland Hunting Preserve
Wal-Mart
Lowes
to name a few!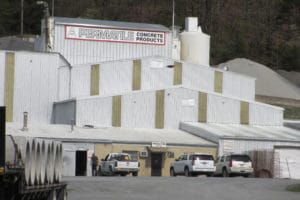 Over the years the company has diversified into several franchised products including Evergreen retaining walls, T-Wall retaining walls, Cable Concrete erosion control mats, Thermal-Krete precast basement and wall panels, The HYSPAN precast bridge, as well as numerous specialty engineered products of our own design. The company began with one building housing the machine-made products and has expanded to over 100,000 square feet of production space, under crane capacities of up to 50 tons, with each building heated, giving us year round production capacity. We run our own fleet of trucks plus countless out source haulers to help service our customer's time requirements.
Our parent company, Joe Rainero Tile Company Inc., a tile, terrazzo, marble and granite business specialized in highly finished, hands-on work, and we naturally draw from that sense of precision and adapt it to the precast concrete products business. We were among the first to participate in the Quality Assurance programs of the National Precast Concrete Association and the American Concrete Pipe Association. We have been certified by five State Highway Departments and worked in nine states. We are one of few companies who test each section of our manhole and sanitary sewer pipe production to assure air-tightness.
Permatile Concrete Products prides itself on the longevity of its workers, with many employees having worked with us for over forty years, and several employees still working well after retirement age. The hands-on precision work of our ancestors has given us the opportunity to think outside the box and take on some highly specialized, out of the ordinary precast projects. Our in house designers believe "If it can be precast … we can precast it!" We have several fourth generation family members that have come into the business and are involved in the daily operation of the company. They have taken on management and leadership responsibilities, insuring that quality, precision and excellent service continue to be at the forefront of Permatile's mission. We take great pride in making sure we meet the needs of our customers and in the quality of product and service that we continue to deliver to those customers in the many states in which we work.