The HY-SPAN Bridge System utilizes a three-sided, flat-decked, rectilinear precast unit placed segmentally onto a concrete foundation. The segmental units are connected together by means of mechanical lateral ties such as post-tensioning rods or strands and by a grouted keyway preformed into the foundation and at the mating surfaces between adjacent units. The HY-SPAN system offers clear span units from six feet to fifty feet coupled with vertical clearances from two feet to fourteen feet so that a wide range of opening configurations can be achieved. HY-SPAN units may be cast with a skew angle up to 45 degrees or in radial and transitional shapes. The foundation, wing walls and guardrail may also be precast or cast-in-place depending on site conditions.
A typical, totally precast installation may be made in less than one day!
Typical Applications Include:
Conventional bridge construction and replacement
Multiple cell installations for longer spans
Underground storm water detention structures
The HY-SPAN System meets or   exceeds the following:
AASHTO Specifications
ACI Codes
Variable Earth Dead Loads
HS20, HS25, HL-93 and Alt. Military Live Loads
Precast Concrete Bridge Slabs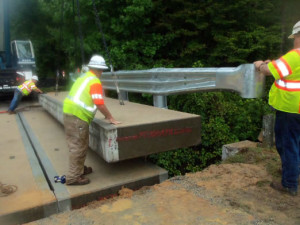 Permatile manufactures precast concrete slabs for use in replacement of bridge superstructure. The ability to use your existing bridge abutment walls allows for quick removal of old bridge deck and installation of new slab deck in less than one day.
6' to 40' Clear Span Options (out to out) with multiple span options
Skews Up To 45 Degrees
Post Tensioning On All Structures
Thrie-Beam Posts and Horizontal Railing Including Transitions Pieces
BR-27-C Packages Available
Waterproofing Available