Concrete Pipe—It stays in shape!
Economical, durable and permanent describes Permatile's precast concrete pipe that is manufactured to meet or exceed the ASTM specifications for:
C-14 Non reinforced storm sewer pipe from 6" through 24" diameter
C-444 Porous concrete pipe for under drain
C-76 Reinforced pipe for sanitary or storm systems from 12" through 144" diameter
C-76, C443 O-Ring Joint reinforced pipe
C-507 Elliptical pipe from 14" x 23" to 68" x 106"
Permatile takes great pride in the quality and performance of our concrete pipe. We manufacture concrete pipe in Class III, IV and V and provide special design services for deep fill or high loading conditions. Permatile can skew or cut concrete pipe to order. Soil-tight or water tight joint seals are designed to exceed applicable ASTM and ASSHTO standards for Bell and Spigot, O-Ring and Straight Wall designs. Each section of our O-ring sanitary and storm sewer pipe is individually vacuum- tested and the joint acrylic coated for ease of assembly.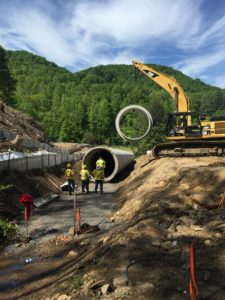 Flared end sections, wing walls and straight walls along with a full compliment of tees, wyes and bends in varying sizes are available along with other custom designed fittings.
Concrete pipe continues to be the choice of engineers and owners when durability, structural integrity, 100 year design life, constant hydraulic efficiency, and low maintenance are considered. Concrete pipe won't rust, buckle, split, deflect, deteriorate, burn, pollute, float, or lose its hydraulic capacity.
Concrete Pipe—It stays in shape!
Click here to see Atlanta Action News 2 show the replacement of failed metal drainage products with reliable concrete pipe.