Two Tunnels/Bridges Under U.S. 460
Failed Metal Arch Replaced By Precast Tunnel Sections 
Rte. 460 Blacksburg, VA, 1994
60 Days From Start To Finish
30′ x 17′ and 24′ x 17′ tunnels
Utilizing HYSPAN™ precast rigid frame sections with a unique joint design, the single lane road under U.S. 460 was reconstructed into a two lane road after the metal plate arch failed.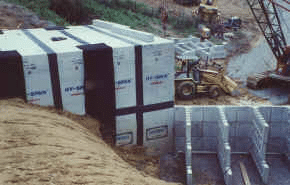 Permatile teams engineered, precast, and transported the 114 rigid frame sections to the project site for installation by the contractor. A second single-lane tunnel was built under the four lane U.S. 460 simultaneously, to replace a failing metal plate arch.
The VDOT project was sold on May 17, with a required completion of August 15. Permatile had completed the precast sections for both tunnels by July 22. The 114 precast units were installed by August 5 and the roadway was in place by August 15.
 The Superbox design was chosen because of the questionable foundation conditions under the roadway and the superior bearing capability of the Superbox.